In June, three projects, the so-called NordMar projects that have been running since 2019, will end with an impressive final conference that will take place at the Grand Hotel Reykjavík.
The projects NordMar Plastic, NordMar Biorefine and NordMar Ports began on the basis of the priorities of the Nordic Council of Ministers when Iceland held the presidency in the years 2019-2021.
For more information about the conference, send an email to: nordmarplastic@matis.is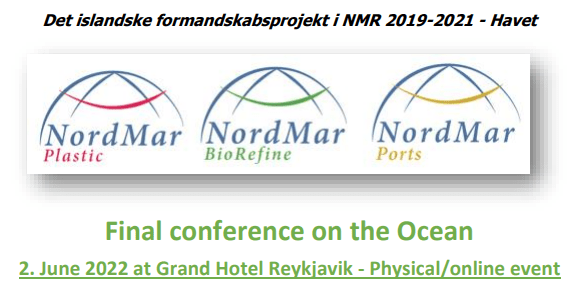 NordMar Plastic led by Sophie Jensen, Matís' project manager, aims to raise awareness and educate the public about plastic pollution in the environment, as well as to develop and publish study materials and hold events that promote increased innovation in connection with the subject.
NordMar Biorefine is led by Val Norðra Gunnlaugsson, Director of Matís, and aims to assess the feasibility and potential of biomass plants for the blue bioeconomy in the Nordic countries and the formation of a network of experts in this field as well as education on related issues for younger generations.
In the project NordMar Ports Emphasis is placed on strengthening ports as centers of innovation and energy exchange, a project managed by partners in the Faroe Islands.