Green entrepreneurs of the future (GFF) is an educational project at Matís that started in June 2021. The mission of the project is to educate Icelandic elementary school students about climate and environmental issues, and the project is funded by the Climate Fund. Katrín Hulda Gunnarsdóttir, an expert at Matís has worked on the project together with Justine Vanhalst, project manager at Matís. Katrín shares with us the journey of the project from the beginning.
"It was pleasing to see how interested and really knowledgeable the kids were about the effects of climate change. It soon became clear that this is an issue that is on their minds and they are very aware of the discussion that is taking place in society at the moment."
Why Green entrepreneurs of the future?
"I had just finished a teacher training course where I had learned various concepts such as problem-solving learning, student-centered learning and gamification. When I saw a job advertised to work at GFF, I thought it was a perfect fit. It both fit well with the philosophy I wanted to adopt as a teacher, addressed issues that I consider important and would give me experience in creating learning materials. I applied for it and have been here ever since," says Katrín Hulda.
You don't have to look far beyond a dose to have an effect
"The goal of GFF is to arouse the interest and increase the knowledge of primary school children about climate and environmental issues, innovation and sustainable resource use in order to mobilize them in the fight against climate change and encourage them to green innovation."
"This was done by providing innovative and interesting education and engaging them in conceptual work and innovation in cooperation with companies in the local area with a special focus on environmental impact and resource use. With that, the intention was to strengthen relationships between parties within the students' home areas and show them that often you don't have to look far to be able to make an impact."
"With innovative education, we were mainly thinking about making it exciting, impressive and empowering for the kids." It has the effect of reducing climate anxiety. In order to combat climate anxiety among children and young people, it has been recommended, among other things, to tell them the truth, give space to difficult feelings and allow them to take part in the fight. The authors of the GFF curriculum had this in mind when writing. Katrín Hulda explains.
Challenges following Covid 19 were solved with resourcefulness
"The goals were achieved and the project went better than we dared to hope. Of course, the organization changed a little due to the Covid-19 outbreak, but the schools were incredibly resourceful in sorting things out. As an example, in Sauðárkrók it was not possible to visit the companies due to a ban on visitors, due to the Covid mass restrictions. Instead, the students received visits from the companies, where they were told about their activities. There were presentations, videos and many other things, and it seemed like a great success."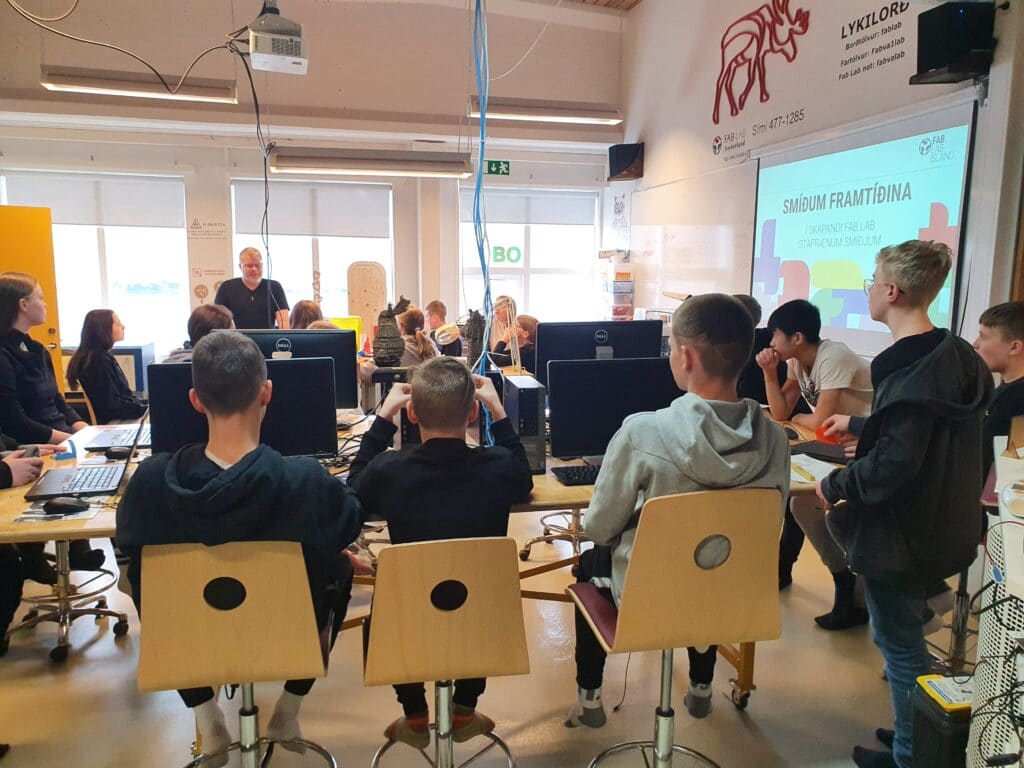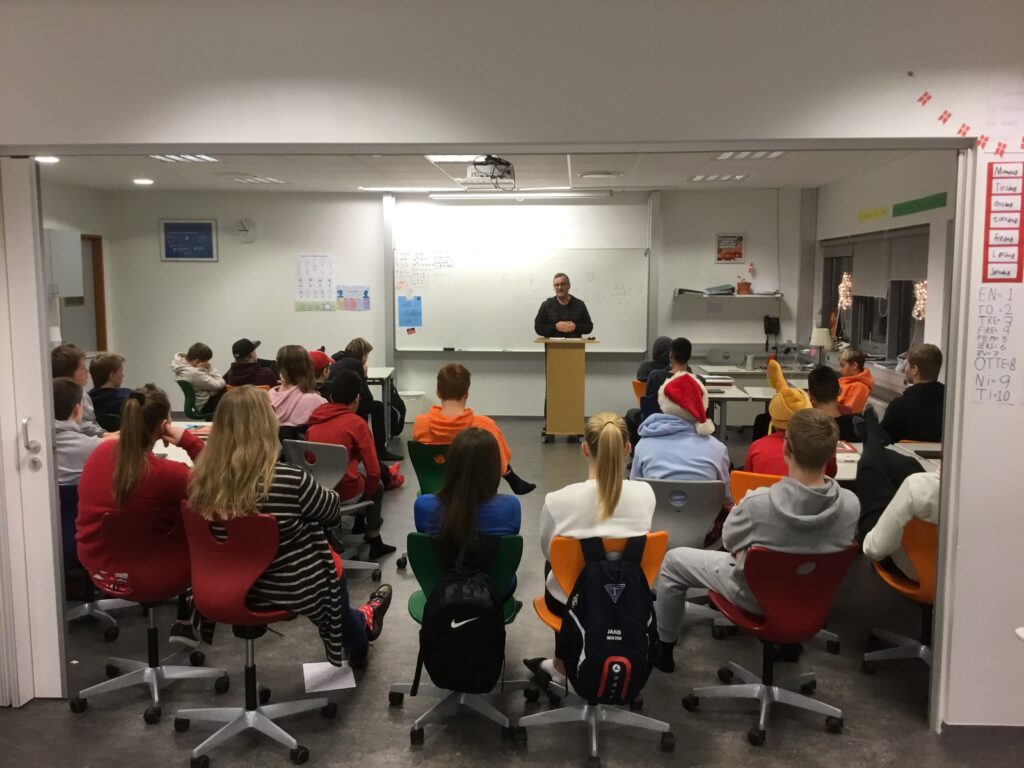 "Feedback from teachers and other participants came out very well, and was very valuable in refining the project for the next round." It can also be mentioned that there is a great lack of study materials on climate and environmental issues for this age group, and therefore there is a certain gap that the project fills in," says Katrín Hulda.
Did something new or even unexpected come to light?
"It was fun to see how good the kids are at innovation. Not only do they come up with brilliant ideas, but they also showed good work practices and achieved a lot in a very short time when the MAKEathons took place. MAKEathon is an innovation competition where you compete to come up with the best solution to a given problem. In our case, the competitions took place over two days and the kids made prototypes, models or posters of their solutions to environmental problems.
It was pleasing to see how interested and really knowledgeable the kids were about the effects of climate change. It soon became clear that this is an issue they are passionate about and they are very aware of the debate that is taking place in society at the moment. Moreover, there was a great will to fight among them, but they feel that this is the biggest problem facing the rest of the world," says Katrín Hulda.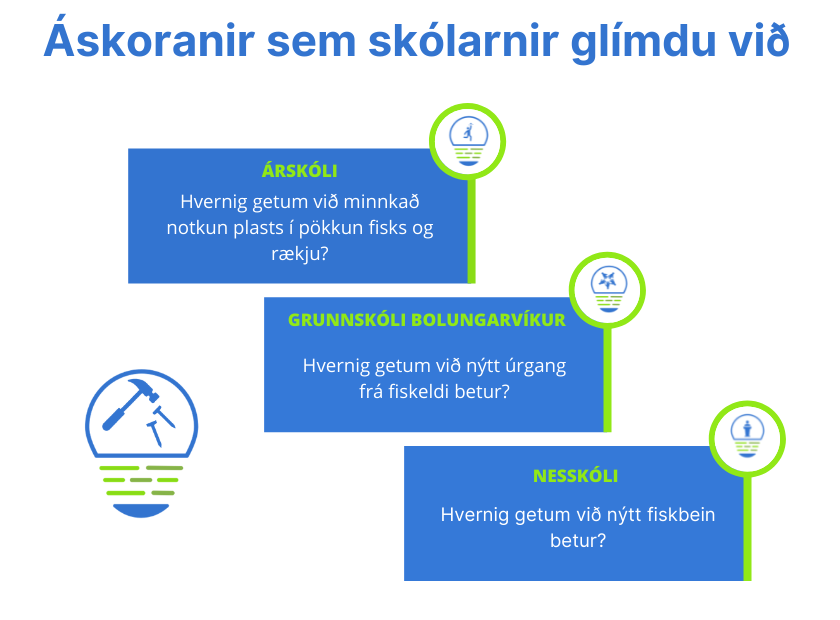 "It was possible to localize the projects according to the needs of each individual school. The teachers took the projects and made them their own, for example, teachers at Grunnskóli Bolungarvík linked the subject matter to the history of Bolungarvík, and teachers at Sauðárkrók took advantage of the opportunity and used the one experiment to teach their students how to report.
"It was also cool to see how empowering the MAKEathon was for the students. Having the opportunity to deal with "real problems", ie. the same problems that the adults in their immediate environment face, seemed to give them new assumptions and ambitions. It was very important to them that this was not just some textbook example that was then put in a drawer and never done anything more with."
The first year of the project ended with a bang and the impact is not hidden
"The first year of the project, hopefully of many, ended this spring with a bang. The national MAKEathons competition, GFF's innovation competition, was held and the results were presented during Innovation Week. All participants were very satisfied and there seemed to be a great desire to continue the project.
The impact has primarily been on the students. They have learned a lot, both academically, ie about climate change and its effects, but also practically, i.e. work practices An increased understanding of the nature of climate change and its effects, among other things, on their local environment has been achieved. The kids' perspective on their hometown changed as a result, as well as on the companies that operate there. They learned to see opportunities in their local environment. FabLab smidjarnar and Djúpið Frumkvöðsetur came in strong, but their expertise includes teaching kids innovation and entrepreneurship.
The teachers have also received new weapons in their pedagogical arsenal, both in terms of theoretical knowledge and also new teaching methods. Hopefully, these methods will continue to be useful to them, whether they teach environmental science or some other subject. We must not forget the impact the project has had on us. We are full of inspiration and would like to take the students, and their creativity, as our example," says Katrín Hulda.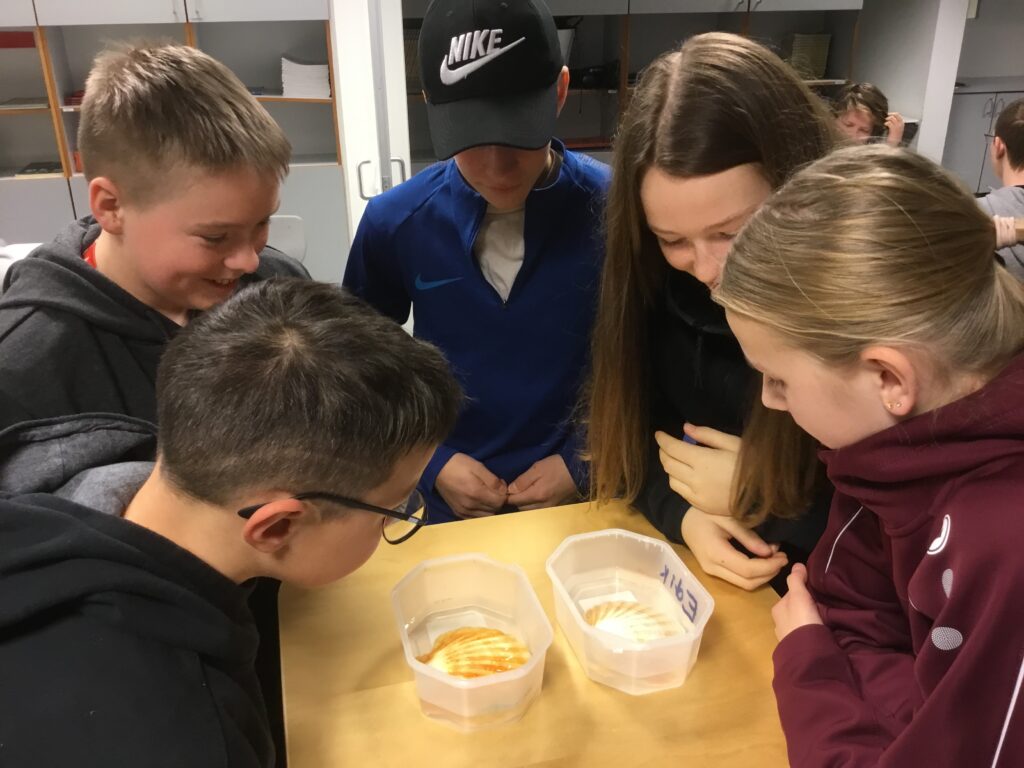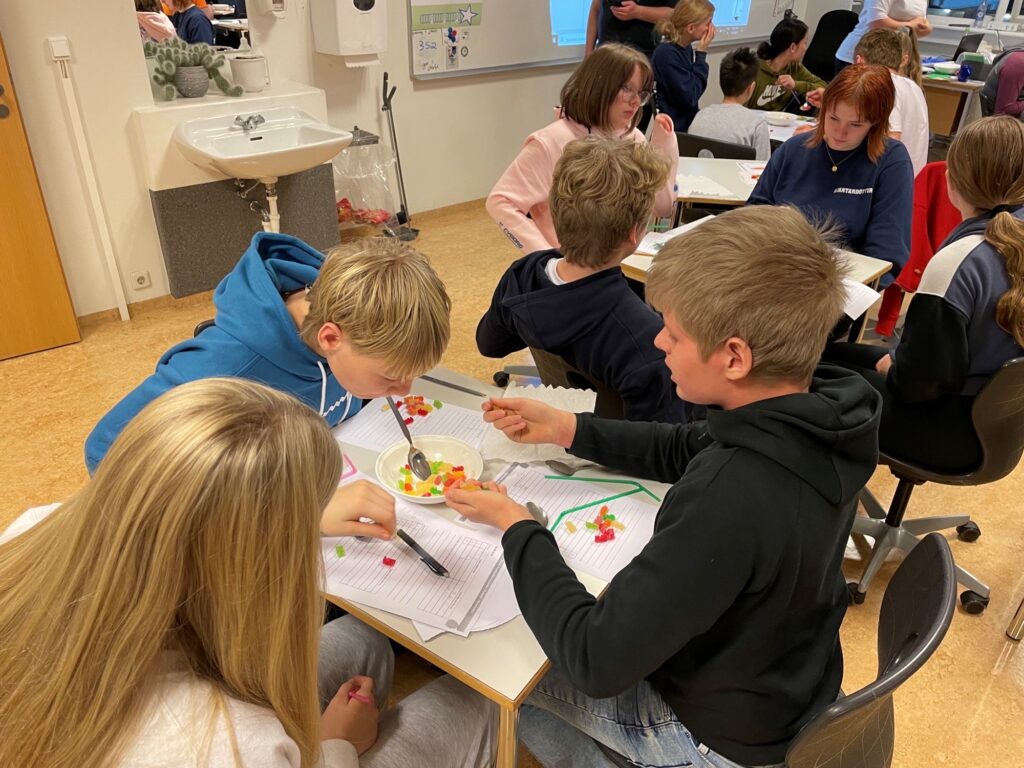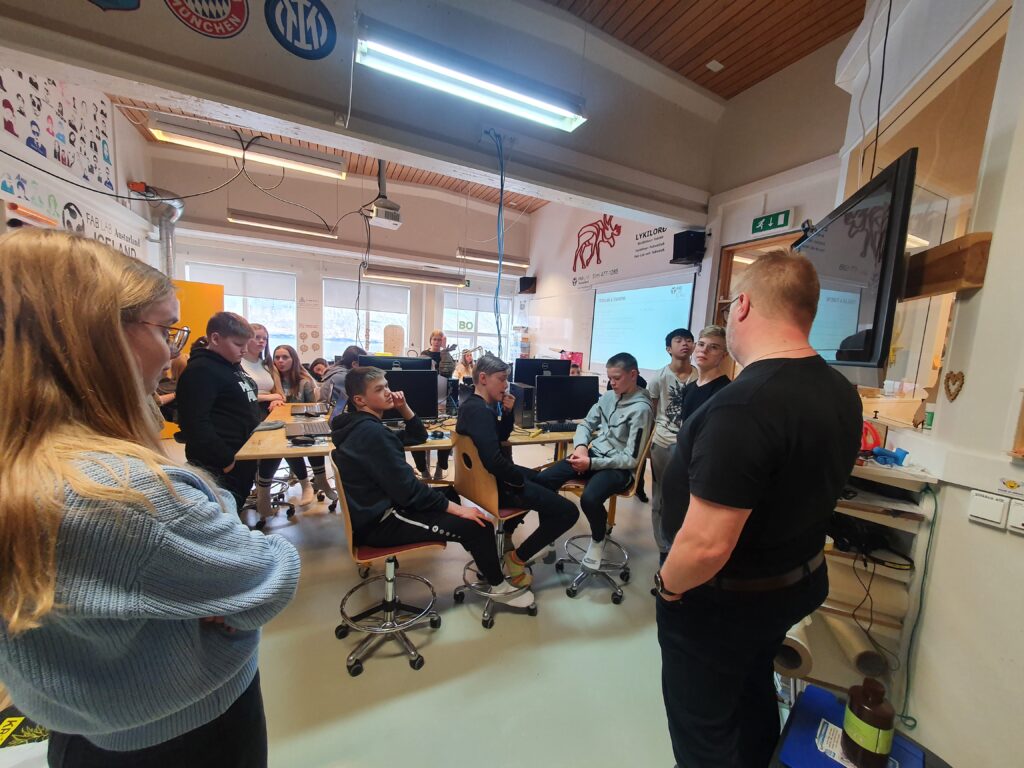 What are the next steps?
"The course material itself will be made available online as agreed. It would be nice to be able to publish it properly though, with illustrations and a nice presentation. The intention is to apply for a grant for such a thing."
"As for the next school year, the registration of schools that want to participate has been opened. Both the oldest classes of primary schools and secondary schools can participate. Matís' role is to be within their reach, but the study material is all there, so it shouldn't take much intervention for the MAKEathons to come. Registration has been opened and will end on September 1. Those interested receive a short Google survey that they fill out."
Those who wish to learn more about the project or access teaching materials are directed to the project's website: https://graenirfrumkvodlar.com/. The project also maintains an Instagram page with various information and pictures: https://www.instagram.com/gff_matis/.
Special thanks to our partners: Stefán Þór Eysteinsson at Matís, Gunnar Þórðarson at Matís, Ragnhildur Friðriksdóttir former employee of Matís, Year School Sauðárkróki, Nesskóli Neskaupstaður, Elementary School Bolungarvík, Djúpið Frumkvöðsetur Bolungarvík (Gunnar Ólafsson), FabLab Ísafjörður, FabLab Neskaupstaður, FabLab Sauðárkrókur, N4 Television, Cambridge University. Dögun shrimp processing, FISK Seafood, ArcticFish and Eskja.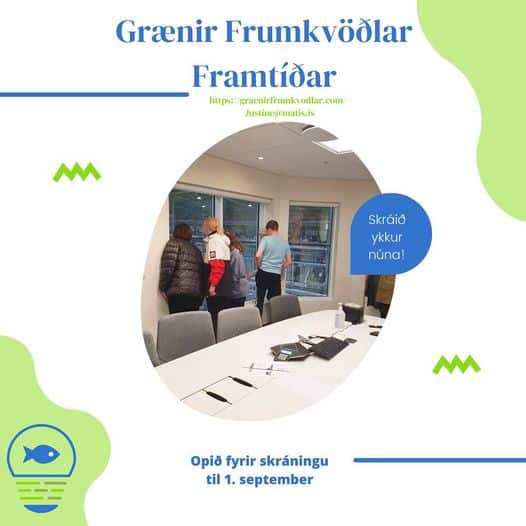 Registration has started
Registration for Green Entrepreneurs of the Future for the next school year has opened. The project is suitable for the oldest grades of primary school and the basic courses of secondary school. For more information, those interested can contact the project manager, Justine Vanhalst at Justine@matis.is. Registration is done by clicking the button below: